We've had a lot of new patients visit the clinic recently and many of them haven't ever had a massage before. As strange as this may sound to some, many people have never experienced the benefits of remedial massage before. Remedial massage is a blanket term used to describe massage treatments performed by a therapist who has completed training to at least the level of a diploma of remedial massage. There are typically three different styles of massage that are used depending on the needs of the patient.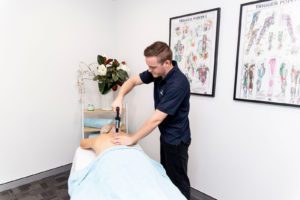 Relaxation Massage
This style of massage is perfect if you suffer from stress and anxiety. It allows you to really reconnect with your body by using constant rhythmic strokes to gently unwind the tension that makes its way into your body during times of prolonged stress. People experiencing the negative effects of stress and anxiety can present with nervous tension which can lead to headaches, interrupted or poor sleep, restlessness, elevated heart rate and blood pressure. These symptoms can all be alleviated with relaxation massage.
Remedial Massage
This style of massage makes up the bulk of the treatments provided at Physionorth. Remedial massage is used to treat a variety of problems stemming from past injury, over use, postural issues, etc. The aim of the treatment is to restore function and to provide relief from pain and discomfort. Each treatment is tailored to the patients needs depending on how they're presenting. A common theme we see is workplace related pain and discomfort. Repetitive motions or holding postures for extended periods of time can cause the texture of the tissue to change, trigger points to form and pain to refer into different areas of the body. Remedial massage focuses on releasing tight and sore muscles and treating the referring pain from these areas.
Sports Massage
Sports massage is a style of massage where the primary focus is injury treatment/prevention and enhancing performance. Muscles and fascia can become tight, congested and inflamed which can hinder performance and lead to injury. Sports massage focusses on maintaining the function of the body for athletic performance. It can often be uncomfortable but the results are worth it! Sports massage can also be performed post event to flush out tired and worn out muscles. This can help speed recovery and ease delayed onset muscle soreness.
Each treatment is often composed of more than one style of massage and there is no hard and fast line between them. These terms better describe the goal of the treatment rather than the techniques used during the session. Massage is a very individual experience. What one person might describe as relaxing another may describe as very intense! The best way to ensure you have a great treatment is to let your therapist know what you would like from the massage. This way they can work to meet your expectation.
– Blair Smith, Remedial Massage Therapist
If you would like ti make a massage appointment with Blair, give one of our friendly staff a call on 4724 0768 or follow the link to book online. https://portal.coreplus.com.au/physionorth
Back to All Posts