MARCH 2020
Foundations to Running
Two part workshop focusing on all things running! Come to one or come to both, this workshop is suitable for all levels of runners.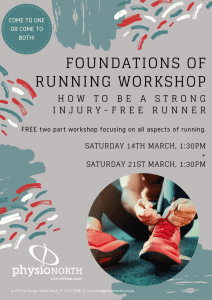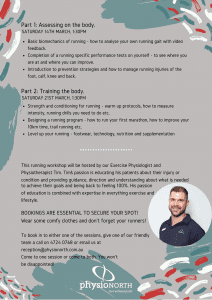 Part 1: Assessing on the body.
1:30pm Saturday 14th March
Basic biomechanics of running – how to analyse your own running gait with video feedback.
Completion of a running specific performance test on yourself – to see where you are at and where you can improve.
Introduction to prevention strategies and how to manage running injuries on the foot, knee and calf.
Part 2: Training the body.
1:30pm, Saturday 21st March
Strength and conditioning for running – warm up protocols, how to measure intensity, running drills you need to do etc.
designing a running program – how to run your first marathon, how to improve your 10km time, trail running etc.
Level up your running – footwear, technology, nutrition and supplementation.
If you would like to secure your spot for this workshop, give the clinic a call on 4724 0768 or pick us an email to reception@physionorth.com.au
Do you want to know more about what workshops are coming up at Physionorth? Why not Contact Us! Click the link to submit an enquiry about our workshops at Physionorth.
We can't wait to see you soon!
.