If you would like to get yourself healthy and motivated, our small group classes can help. If you are suffering from injuries, pain, chronic illness or disease, balance issues or strength and flexibility loss, we accommodate for this in our group classes. Our Physionorth Townsville clinic is located at 69 Eyre St, North Ward. We have a beautiful, open exercise area, with a wide range of choice in classes which are all lead by either a Physiotherapist or an Accredited Exercise Physiologist. All classes are eligible for private health fund rebates (subject to your individual policy inclusions). 
Participants who have not attended our clinic before are required to have a 1-1 screening with a Physiotherapist or Exercise Physiologist prior to entering a class, so that they are aware of your goals, areas of injury and strength deficits, and can target these during class.


Seniors Exercise Classes
This class is specially designed for people who are 50+ years of age. Each participant has an individually written exercise program which they complete under the care of our Physiotherapist or Exercise Physiologist, carried out in a small group setting. Each program address' the individual areas of need including strength, balance, muscle weakness, flexibility, and pain. Your Physiotherapist or Exercise Physiologist will progress and/or modify your program each time you attend, depending on your needs on the day.
Strength and Mobility Classes (formerly Pilates)
Our strength and mobility classes are fantastic for preventing pain and injury, managing old injuries, regaining pre baby core strength, optimizing sports performance, and achieving strength and flexibility goals.
Our Strength and Mobility class is designed for people who want to build strength and control. The class is limited to a maximum of 6 people and utilizes mat exercises, fitball, rings, pilates balls, weights and bands. The class is designed for beginners who have not done this type of exercise before, or those with an injury history, that need more support. If you are not able to do an exercise, this is not a problem! The Physiotherapist or Exercise Physiologist taking your class will give you an alternative. The class is 45 minutes in duration.
Advanced Strength and Mobility Classes (formally Pilates)
This class is for those who are at the intermediate-advanced level with a good fitness level and who need more of a challenge. These classes can include mat exercises, fitball, rings, pilates balls, weights and bands. There is a maximum of 6 in a class and classes run for 45 minutes. Although this is a slightly more advanced class, the Physiotherapist or Exercise Physiologist will still modify any exercises you are having difficulty with or you are finding too easy.
Let's get Functional Classes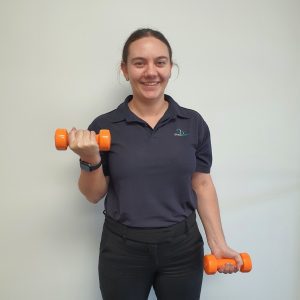 Let's get functional is for all ages who are looking for individualised and appropriate exercises and advice for their goals, taking into consideration current injuries and conditions. With a strong focus on improving general fitness, muscular strength, balance and joint mobility. This group is capped at 6 people.
Circuit Classes
The circuit class is designed to be for our patients who are looking for a higher intensity workout. This class will consist of strength, cardio and functional exercises. It is the perfect class to start challenging yourself in a safe environment. Circuit class is capped at 8 people per class.
All about Balance Classes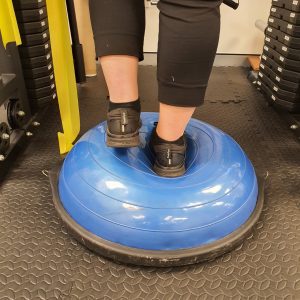 All about balance is a class designed for those who are seeking help and guidance with their balance. This will consist of a fun circuit style class working on strength and balance.
All about balance is capped at 8 people per class.
Stretching
Stretching is a class for those wanting to improve flexibility. A great way to help with aches and pain caused from general tightness in the body. The duration of the class is 45-minutes and will involve some use of equipment depending on your needs such as trigger point ball, foam roller and stretching bands. This class is capped at 10 people.
Move with a Mission
Move with a Mission is a class for veterans who will be provided with an individualised exercises program. This will take into consideration injuries and goals. The class will be capped at 8 people.
Fighting fatigue
Our fighting fatigue class is made for those wanting a gentle return to physical activity. This class is for fatigue management of chronic health conditions and individuals undergoing cancer interventions. The class is capped at 6 people.
PD Group
PD group is an exercise class specifically designed to help individuals with Parkinson's disease move better. The exercises encourage large amplitude and powerful movements as well as challenging strength and balance. This group is capped at 5 people.

Private Classes

Private 1-1 or 1-2 classes are also available via request. These sessions have the advantage of the class being tailored to your specific needs. They also include pilates reformer and the multi gym (depending on your goals and needs). These classes are very popular with our patients who have an injury and would like to return to exercise, however, feel they are not ready for group classes. All private classes are eligible for private health rebates.
How to Book
As class numbers are limited, bookings are essential! You can either email us on reception@physionorth.com.au to reserve your place or call 4724 0768. If you are unsure about whether a Physionorth exercise class is right for you, please email or call us for a chat with one of our friendly Physiotherapists or Exercise Physiologist.
Class Timetable
Click Here to view the Physio Exercise Class Timetable for 2021.
Private health rebates are available with participating health fund providers.
Are Initial Screening Sessions Essential?
All participants are required to undergo an initial screening assessment to ensure their safety and to make sure their goals are met in the class. This is a consultation with one of our qualified Physiotherapists or Exercise Physiologists who run the classes.
This screening includes assessments applicable to you and your goals and any other areas that need to be focused on. Your initial assessment will also teach you how to find the most appropriate, safe, and effective exercises for you.
After you have completed a series of any of the group classes you can book in for another screening session to monitor your progress.
Equipment is available to be purchased at the clinic if you would like to continue your exercises at home.
***Classes do not run on public holidays and in some cases if our Physiotherapists who instruct the classes are away those classes will be cancelled for that time with enough notice to those who attend regularly.
---
If you would like to book into a class please contact our friendly reception staff with your preferred day and time on 47240768 or via email: reception@physionorth.com.au