Same day appointments – Book online HERE
or call us

Please read our Google reviews
Remedial Massage in Townsville
Relieve pain, tension and stress with a massage at Physionorth in Townsville.
Massage has many benefits, the biggest two being pain and stress relief. There are many different types of massage and everybody will have a different preference depending on their needs. If you're confused about the types of massage and if it will be beneficial for you, read on!
Massage benefits: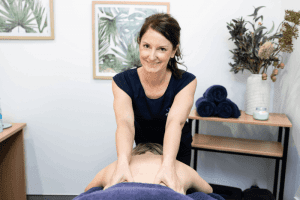 Relief of chronic pain and dysfunction
Relax and relieve the stress of daily life
Prepare for childbirth
Increase blood flow
Helps prepare your body for a sporting event
Help you recover from exercise
Pain and injury relief
Why should you choose Remedial Massage in Physio clinic?
Our massage therapists are highly qualified and have extra skills such as cupping and dry needling
They continue to develop their skills by engaging in regular professional development and in-house learning with our physiotherapists and exercise physiologists.
The Physionorth team works closely. They consult more complicated cases with our Allied Health Professionals to find the optimal way to help you.
The massage therapists can quickly refer you to one of our physiotherapists or exercise physiologists to ensure you get the best care.
Different Types of Massage Include:
Remedial Massage
Is the broad name for massage covering sport, deep tissue and trigger point therapy. Remedial techniques aim to assess and find the cause of the pain, therefore targeting specific areas to treat. They normally involve a greater pressure on superficial and deeper layers of muscles. This style of massage is ideal for chronic pain management and correction of postural abnormalities and when working to address injuries.
Swedish Massage
Swedish massage is a relaxing massage, normally applied with light/medium pressure. It is perfect for someone who is seeking a general body treatment without specific targets. Great for relaxation, emotional stress and improvement of cardiovascular flow.
Sports Massage
Sports massage is specifically tailored for pre and post events, it helps prevent injuries and enhance flexibility before an event, as well as facilitating the healing process afterwards. Regular massage can also help achieve higher sport performance and maintain a healthier musculoskeletal system.
Hot Stone Massage
A hot stone massage uses smooth, warm therapeutic stones to help relax and release tension in tight muscles. Hot stones are placed in various places on your body, while the therapists uses other stones to run along the muscles, using long strokes and circular movements to release tension. This is a very relaxing massage, however it still has great therapeutic results.
Pregnancy Massage
Massage is also ideal for pregnancy. It helps reduce swelling, decrease back and neck pain and keep you moving freely. At Physionorth we have special pregnancy pillows to allow you to lie on your stomach comfortably during your treatment. Alternatively, you can lie on your side for treatment if you would prefer. At Physionorth our pregnancy massage is tailored to your individual needs and preferences.
PLEASE NOTE, we do not recommend having a massage in the first trimester (i.e. first 12 weeks) of pregnancy.
Cupping Therapy
A great adjunct to massage therapy, cupping therapy works on increasing the extensibility of your body's facial system. Click Here to find out more about cupping therapy.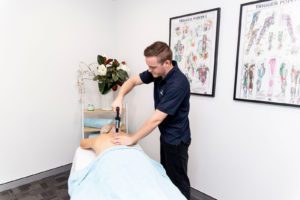 Dry Needling
Dry needling differs from acupuncture in the theory and location of the needles. Acupuncture involves a different assessment and focuses on the treatment of medical conditions by restoring the flow of energy through points in the body called meridians. Carissa and Magda are qualified to use dry needling within their massage to alleviate some of your pain.
Our Remedial Massage Therapists
Physionorth has four fully qualified massage therapists, who work alongside the Physiotherapists to get the best results for their patients. Magda Szyperska, Carissa Elliot and Gypsy Dal Mina are experienced in each of the different types of massage. Click on the links to their bio's to find out which therapist would be best suited to you! Or if you'd like some help, give our friendly staff a call on 07 4724 0768 and explain your needs. We will pair you with the best therapist for your requirements.
Prices
Remedial Massage 60 min – $100
Remedial Massage 90 min – $150
Remedial Massage with Hot Stones 60 min – $115
Remedial Massage with Cupping 60 min – $115
Remedial Massage with Dry Needling 60 min – $115
RESTORATIVE PACKAGE
6x 1hr massage sessions + 1 FREE – $600 – ONLY $86 per session!
All prices include GST. Private Health Rebates are available.
If you'd like to book online please click here
or call us