Are you looking to rehabilitate following injury? Injury proof your future? Get back into an exercise routine? Trying exercise for the first time?
It does not matter if you are a beginner, intermediate, or a pro when it comes to completing exercises. Physiotherapists are equipped with the knowledge and skills to effectively facilitate your exercise experience and help you navigate any barriers you might encounter.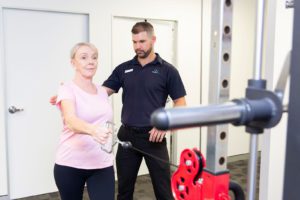 At Physionorth we know the body and what makes it tick, and we welcome anyone who would like to know more about how to improve theirs! We work with individuals of all levels and age groups with tailored exercise prescription to achieve specific goals.
Here are some commonly asked questions answered:
What happens in a one on one physio sessions?
The physiotherapist conducts a comprehensive assessment
Sets goals with you
Develops an exercise program that is tailored to you
Provides you with advice, education, and modification throughout your sessions
Motivates you to achieve your best
If I get given a program after an assessment, can I just do it at my gym or at home?
You certainly can! When you are given exercises, we do encourage you to continue with this safely outside of your physio contact time. We recommend however, that you continue with frequent supervised sessions for the following reasons:
Have your symptoms monitored
Exercises modified to ensure you achieve optimal outcomes for you – reps or sets changed, exercises added or taken away
Ensures safe progression with your exercises
Can correct your technique and provide advice
Motivate you to push yourself – safely.
What does physionorth offer in terms of supervised exercise classes?
Group options:
Strength and Mobility
Advanced Strength and Mobility
Functional Training
Seniors Health and Fitness
One on one options:
Fit and Strong Package
Individual Sessions
To learn more about our group options CLICK HERE.
At home telehealth options also available, please speak with one of our team members to arrange this.
If you are not sure what is the best option for you, you can discuss the options with one of our staff members.
– Casey Smith, Physiotherapist
If you would like to make an appointment with Casey or book in for your 1-on-1 assessment, give one of our friendly staff a call on 4724 0768 or follow the link to book online. https://portal.coreplus.com.au/physionorth
Back to All Posts