Running is a great low-cost sport that many people enjoy in this beautiful country of ours. It has many enticing qualities such as flexibility! It can be done anywhere, at any time and with anyone. We also have many great running events for those who enjoy a more structured approach, or running can be done simply for the joy of it!
Yet, with many people taking up running, the injury statistics are alarming! Running injuries are far too common, and yet, some of the main injury risk factors are previous injury and training load errors. While injury prevention is not foolproof, (if it were, we wouldn't be here talking about it), it is important. After all, no one wants to have to stop running simply because they avoided simple strategies that could have reduced the likelihood of their injury in the first place!
Free email series
Want to know more? Join our Complimentary Email Series here. It contains invaluable Tips including:
A free-running self-assessment
Tips on how to warm up appropriately
If and when to seek Physiotherapy advice to improve your running
Ever been unsure about whether you should see a Physio about your running style? You do not always need to be injured to see a physiotherapist, after all, prevention is always better. Physios can assist in providing education and guidance in many ways and not just treatment in the form of manual therapy post-injury.
Click here to subscribe to a FREE email series with some short videos that may help you to identify if you should see a Physiotherapist for a further assessment relating to your running and some great tips on warming up prior to your runs.
If you don't live locally, no problem! Our Physiotherapist can do your running consultations and assessments via video!
As always, a holistic approach in any injury treatment or prevention is ideal. Our Physiotherapists here at Physionorth, would love to work with you and alongside your other coaches and health professionals to assist you in getting the most out of your running. We have on offer a range of opportunities. Contact us on 07 4724 0768 to learn more or see below for some more details.
Webinar series
Want to know the top strengthening exercises all runners must know? And Tips on Running Technique to prevent injuries and improve your time!
One of our Running Physiotherapists Tim has put together a couple of short webinar episodes packed with tips and advice that all runners should know, no matter their level of experience! The Webinar covers:
Common injuries and how to prevent them
Self-checks- so you can do your own injury prevention
Correct Running technique and how to run safely and efficiently
This is a great starting point to understanding the background information you need to know to become an efficient and injury-free runner.
Click here to purchase the webinar now for the introductory price of $19.99!
You will pay through Stripe. Stripe offers payment processing infrastructure. We do not keep any credit card details.
Physio Tim's Running Webinar
Still unsure if this webinar series is for you?
As always, we like to encourage you to discuss with your treating health professional before making any changes to your running or training. To find out more about whether these webinars are appropriate for you please contact us today on 07 4724 0768.
Injury prevention course
Want a more comprehensive and individual approach? Then perhaps our injury prevention series will be more suitable for you?
For those wanting a more comprehensive approach to their running training and injury, we have a more detailed series. This includes:
An individual running analysis was done by our physiotherapist
Access to weekly educational presentations focusing on different aspects of your running training
FREE guidance from your physiotherapist with unlimited email access for questions and one appointment per week to write your individualised program to keep you on track!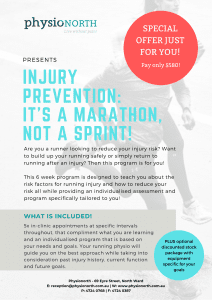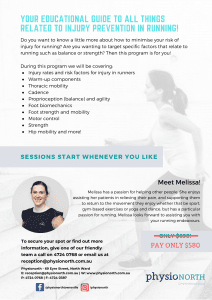 This is NOT a cookie-cutter approach. We are very passionate about helping YOU, the individual, in any way that we can! We want to help you understand the research that is currently available relating to injury prevention and how it may apply to you.
The weekly online presentations will cover topics ranging from warm-ups to foot strength and mobility, to whether 'core' strengthening is useful, how to monitor training loads, when to see a physiotherapist and running specific strength and conditioning.
Want to know more? Contact our friendly staff today on 07 47240768 or email Running Physio Melissa on reception@physionorth.com.au