Exercise Physiology
Accredited Exercise Physiologist (AEP's) are allied health practitioners and health & fitness professionals.  They are educators and coaches in all thing's lifestyle and physical activity. AEP's use exercise as medicine to help treat and manage numerous conditions. As well as obtaining training in elements such as nutrition, psychology, and anatomy; they are specialists in prescribing exercise to clinical populations (i.e.people with injuries or illnesses including neurological or cardiorespiratory conditions).
AEP's teach you the best exercises for your goals and show you how to perform it safely. They explain the best parameters to use to get the most out of your program and monitor changes to ensure effectiveness. They can also help you become aware of small changes in your lifestyle that can have a big impact on your pain or performance.
One question that gets asked a lot is; isn't this what Personal Trainers do?

This can be answered in numerous ways and can be a touchy subject for some. Nevertheless, the easiest way that these professionals can be differentiated is through their overall study duration and regulatory bodies. An AEP must complete a minimum of 4 years of study and be under strict practice guidelines through ESSA.  Whereas some Personal Trainers can get their qualification in 6 weeks (majority online study) and have no regulatory body. If someone wants help losing weight and they don't have any other medical conditions (such as osteoarthritis), wants to build muscle or wants to do boot camp a Personal Trainer is great.  Otherwise, individuals with injuries or medical conditions should be seen by an AEP.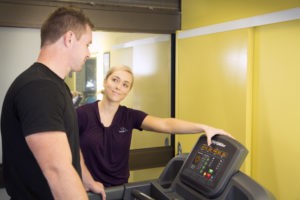 What's the difference between and AEP and a Physio?
The main difference between Physiotherapists and AEP's is that physiotherapists use more "hands-on" treatment and AEP's use more "hands-off" approaches. Over the years the scope of both practitioners has moulded and adapted to complement each other quite well and is why you regularly see them working together. AEP's services are claimable under Medicare (EPC/ GPMP), Department of Veterans affairs (no gap at Physionorth), Work Cover (no gap at Physionorth) and numerous Private Health funds. Whether you want some going support for weight loss, advanced rehabilitation programming to return to sport, a program to help with falls prevention, exercises to improve your back strength, to know the best type of exercise to do after heart surgery or advice about gym exercises our AEP's can help.
Tim Cottman Fields is the AEP at Physionorth and is also a fully qualified Physiotherapist. Tim offers one on one consultation, gym program prescription, group exercise classes and department of veterans affairs exercise classes. If you'd like to talk to Tim to find out more about how he can help you, please contact our friendly reception staff on 47240768 to book a FREE no-obligation phone consultation with Tim. If you'd like to book an appointment click HERE to book online or phone 47240768 to talk to one of our team members.
Class Times
Monday 12:30pm-1pm
Thursday 12:30pm-1pm
Cost: DVA and Workcover- no out of the pocket expense
private patients $28 minus any private health rebates (on the spot claiming available)
Class times don't suit? Ring now on 47240768 to register your preferred time/day or book a 1-1 consultation or gym session with Tim